Grooming can transform a dog beyond recognition. As you can see in these pictures.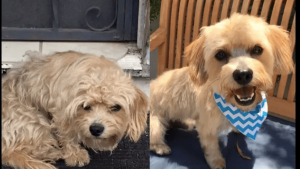 Good for the dog's hair and their well-being, grooming can also completely change a dog's appearance. Such is the case with these hairballs, who no longer recognize themselves in the mirror since their last visit to the hair salon.
Here are 14 pictures of dogs transformed by grooming.
1. His tousled hair is much better "styled" now.
2. His features are much clearer this way
3. This dog's neat hair means he just came off the groomer.
4. The hairdresser also offers photoshoots, like these 2 Shih Tzus
5. This dog feels much lighter with several inches less hair.
6. This adorable dog definitely has excellent grooming skills.
7. His hair is shorter, but his enthusiasm is still the same
8. This dog got a new look, with a haircut and a bandana
9. You can see his eyes much better and he also sees the world around him much more clearly after going through the groomer.
10. An adorable dog happy with his new hairstyle
11. Behind the thick ball of fur hid a dog with big eyes full of love
12. A dog that never misses a grooming session
13. When we see his smile, we understand that this dog is very happy with his new head
14. A dog so happy with his new cut that he puts himself in front of every picture, even when it's his companion we wanted to photograph

By Alexander God
Chief editor
Educated Masters in Writing, Alexandre has been a dog lover since a very young age. Having grown up with many dogs, this adorer of Beaucerons reveals to you every day the news that will move you and inform you about our favorite companions.