Cats are very serious and diligent in their work. As these pictures show.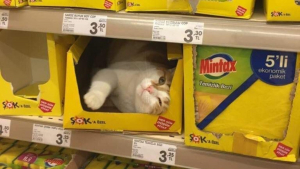 Cats aren't always big nappers. They are also real professionals when it comes down to it, each in their profession and specialty. In fact, in all branches there are cats that are totally focused on their tasks.
Here are 20 pictures of cats who are serious about work.
1. This cat finds a lot of benefits in working from home
2. His friend shares his opinion
3. A cat who takes his job as a teacher very seriously
4. The military is not for the faint of heart
5. A cat who has a technical problem on his computer and has to wait at the help desk
6. A little break is necessary after a busy morning at work
7. This is a good example of effective supermarket management
8. No violations have been reported since the cats have been at their posts
9. With a broken computer, this cat has no choice but to bring a notebook and pencil to work
10. His notebook is enough for him to do all the work that is asked of him.
11. Someone must keep the accounts
12. His office is on 2e the floor of his cat tree
13. A plumbing problem? These cats take care of it!
14. Even a star chef uses cookbooks
15. The section manager is here at hard work
16. A chef surrounded by all his work equipment
17. A pianist who has a funny way of playing music
18. The librarian does not like to be asked too many questions.
19. This cat keeps its stand nicely.
20. The carpentry workshop is run by the largest craftsman

By alexander god
Chief editor
Educated Masters in Writing, Alexandre has been a dog lover since a very young age. Having grown up with many dogs, this adorer of Beaucerons reveals to you every day the news that will move you and inform you about our favorite companions.