Aurélie thought she would never see her 9-month-old cat Django again, who had run away from her home after being frightened by a dog. But 2 years later, an unexpected phone call will disrupt her daily life.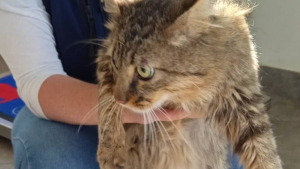 Employees of a store in Côtes-d'Armor made an unusual discovery in the reserve of their supermarket in May 2022. When they noticed that the packages of croquettes and aperitif biscuits were visibly emptied, they were not quick to get their hands on a perpetrator : a greedy cat, named Django.
The feline in question had escaped from its home in Le Foeil in Brittany 2 years earlier after a traumatic altercation with a dog. The moment was so sudden and painful that his mistress, Aurelie Etiembleshe never thought to see him again, she confided in Ouest France.
And yet last May she found her beloved feline, which was about ten kilometers from her home! Using a cage trap, the employees of the Saint-Brandan store managed to catch the little gourmand and entrusted him to a veterinary practice. Its owner will be identified by carrying an electronic chip.
"There was a big blank on the phone, I didn't understand"
Aurelius was surprised and amused to know that her dear Django had been found devouring kibs. The cat was healthy, he was just " very dirty and her flea collar had become too tight ». The vet therefore had to cut it, said his mistress.
Django The gourmet has since returned to his original home, where he lives happy days, and probably no longer needs to steal bags of food to eat his fill…

By Maria Anki
Web editor
A great friend of animals from a very young age, Maria gives them a real affection and follows them everywhere on social networks. Coming from a language course, and therefore very busy writing, she now enjoys rubbing shoulders with the animal world accompanied by her most faithful four-legged companion, Monkey.