Dogs are big gluttons and they sometimes compete in ingenuity to achieve their goals!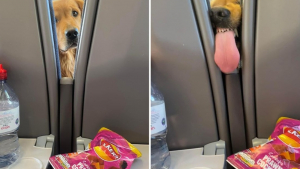 A train passenger had an unusual moment with a dog riding in the same car as him. The dog in question, a Golden Retriever, had a mad desire to help himself to his rear neighbor's bag of chips. And he was ready to do anything for it. The owner of the chips immortalized the moment with funny pictures! A story told by RTL info.
The dog becomes more and more frustrated
In the pictures, we first distinguish Golden, discreetly observing his neighbor behind through the space between the two seats. At this moment, he thinks that maybe a single touching look will be enough to get treats? But he quickly becomes disillusioned, because the owner of the bag of chips is not determined to share.
Then the dog goes on the offensive. He pokes his nose between the seats, which clearly shows his interest in potato chips.
© hugoandursula / Instagram
Then he sticks his tongue out, no doubt hoping it was long enough to reach his target, but to no avail.
© hugoandursula / Instagram
We feel the growing frustration, and the dog sinks its muzzle more and more, revealing its small teeth.
© hugoandursula / Instagram
The story doesn't tell if the passenger eventually cracked and gave up some of his meal to the greedy Golden. But one thing is for sure: this dog made the trip much more enjoyable!

By Wendy Lonis
Web editor
Wendy is an agricultural engineer and combines her passions for words and animals by writing for Pets-dating. As a freelance web writer, she shares her home with many furry and feathered friends: an Australian shepherd, chickens and even carrier pigeons!