A very young kitten was discovered alone on a sidewalk, not far from a bush.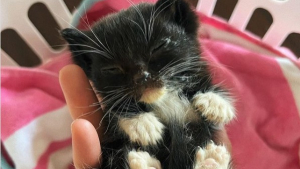 It's in the middle of a sidewalk Los Angeles to Rocco was discovered. Curled up in a little ball, not far from a bush, the kitten was all alone. Whoever discovered it stayed there for a while, but neither the mother nor the kitten's siblings appeared. Rocco had evidently been abandoned.
A cat so small it could fit in one hand
Rocco was small. His entire body was held in one hand. He also had his eyes closed and convulsed due to an upper respiratory infection.
The woman who found the cat waited long enough to make sure there were no other cubs or that the mother would not return. She then contacted the shelter Kitty of Angels. Lizzie Lewisthe founder of the association, and her team, immediately took responsibility for Rocco.
Rocco was looked after and placed in foster care
"He was so small and sick that we took him to the vet for emergency medical care.", have explained Lizzie on lovemeow. After receiving first aid, the cat joined a foster family under constant supervision.
The adoptive mother of Rocco confided that he was very cute and looking for a lot of love. However, new health concerns quickly emerged. Unable to relieve himself, the kitten was again rushed to the vet. This treated the constipation but also diagnosed a more serious problem. Rocco suffered from congenital hypothyroidism, a condition that stunted his growth.
Thanks to his family's treatment and good care, Rocco managed to grow
Rocco was very combative and had to take many treatments to fight his illness. Surrounded by love, his health improved and Rocco is today a handsome and big boy.
His mother said "He is always in a good mood and it is an absolute pleasure to be with him."
In September 2022, his foster family officially and permanently adopted him!

By Wendy Lonis
Web editor
Wendy is an agricultural engineer and combines her passions for words and animals by writing for Pets-dating. As a freelance web writer, she shares her home with many furry and feathered friends: an Australian shepherd, chickens and even carrier pigeons!