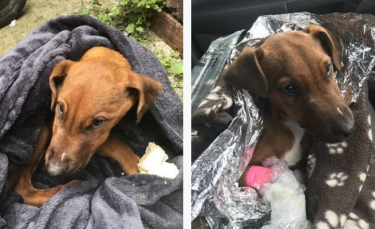 A one-month-old puppy was found by a passerby on the side of the road. His state of health left little chance for a happy ending. Thanks to the dedication of a shelter and a veterinarian, the little canine is gradually recovering from its chaotic start to life.
Stevea one-month-old Fox Terrier puppy, was discovered on April 28, 2022 around 10:30 a.m. at the roadside in Redworth RoadBetween Shildon and Darlington north of UK. The Good Samaritan wrapped him in a warm blanket before reporting the incident to the animal welfare association RSPCA.
Upon arrival at the shelter, Steve was terrified and in poor health. He suffered from malnutrition, hypothermia, he was bleeding from the tail and had a wound on his head that had already healed. A clue that showed that the poor puppy had been mistreated before being abandoned like this. 'It looks like he suffered from neglect in his short life and was thrown away like trash – it's really appalling'denounces Krissy Raineinspector of the RSPCA.

RSPCA
Care to save his life
Krissy took away Steve urgently to the veterinarian. She told the Mirror : "He was on the verge of death. His body temperature was so low that they slowly warmed him up using heated mattresses".
Steve was also dehydrated. The veterinary team therefore placed him on a drip and then treated the bleeding that was coming from his awkwardly docked tail.
Furthermore, the veterinarian discovered that Steve had canine parvovirus. This virus transmitted by contact between animals is highly contagious and can cause death. Steve was therefore placed in solitary confinement for treatment. During the weekend that followed, the puppy fought heart and soul for life.

RSPCA
ALSO READ: A fearful dog won't go anywhere without his comforting blanket that helps him overcome his fears
Today, Steve feel better. He is still under vet supervision, but should soon be able to be placed with a foster family who will care for him until he is ready for adoption. "I'm so happy to see how well he's doing now. He eats on his own, it is an excellent indicator of well-being", testifies Krissy. An investigation has been opened to find out who is behind this act of cruelty.
If you love your dog, do like William, protect it by filling out this form to discover our offers (free)!

.