The time of departure on holiday all too often signals an increase in the abandonment of dogs and cats. In the Vosges, 5 of them were found in a disastrous situation in the absence of their mistress, which caused general indignation.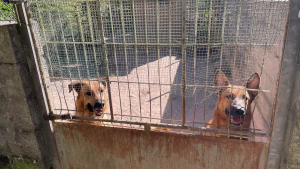 In the municipalityarcsin Lorrainebrought a recent report to the association In the Name of the Animals in a place full of desolation. The volunteers found 2 cats and 3 dogs there, living alone in very unsanitary conditions. Their mistress had gone on vacation and had left them as they were, left to fend for themselves, reported Saint-Die Info.
In the name of the animals / Facebook
If 2 of the pooches had been found wandering, the third was still inside what the volunteers will describe as " landfill », with less than one square meter of space at his disposal. Without water or food, the dog was in complete darkness and was in great danger to remain in these conditions.
The animals were therefore rescued by the association, with the help of the city's mayor and a gendarmerie brigade, before being taken to the nearby SPA, to brovelieures.
In the name of the animals / Facebook
From abandonment to indignation
In the house of In the Name of the Animalsdismay quickly gave way to anger, as is evident in one of their posts Facebook. " While Madame, their owner, struts around on holiday in France, the animals were lucky enough to find some villagers who could give them what they could so they could eat a little. "We can read there.
We also learn that a complaint for abandonment and abuse was filed the day after the sad discovery. Hundreds of internet users have also expressed their outrage and want these animals to have a happier outcome.

By Maria Anki
Web editor
A great friend of animals from a very young age, Maria gives them a real affection and follows them everywhere on social networks. Coming from a language course, and therefore very busy writing, she now enjoys rubbing shoulders with the animal world accompanied by her most faithful four-legged companion, Monkey.