Leo is a beautiful dog who had a very complicated life with a very cruel family. In fact, he was living under the care of people who mistreat animals and don't feel no guilt for their horrible actions. These kinds of people have no mercy and make life miserable for the animals they own, but the reality is they shouldn't have pets.
It all happened in Mexico, where Leo's alleged family dog ​​was left tied to the wall of the house outside, whether it was too hot or too cold or there was a big storm. Fortunately, his case was discovered by someone who filmed him on a day of heavy rain and hail. No one untied him, they just left him there.
In the sad video, you can see how Leo tries to protect his head with the other parts of his body, how he tries to curl up against the wall in order not to feel the heavy hail fall on him. The person who filmed it intended to post the video on Twitter to save this poor dog who didn't know how to ask for help.
Leo, the dog who lived tied to a wall outside a house.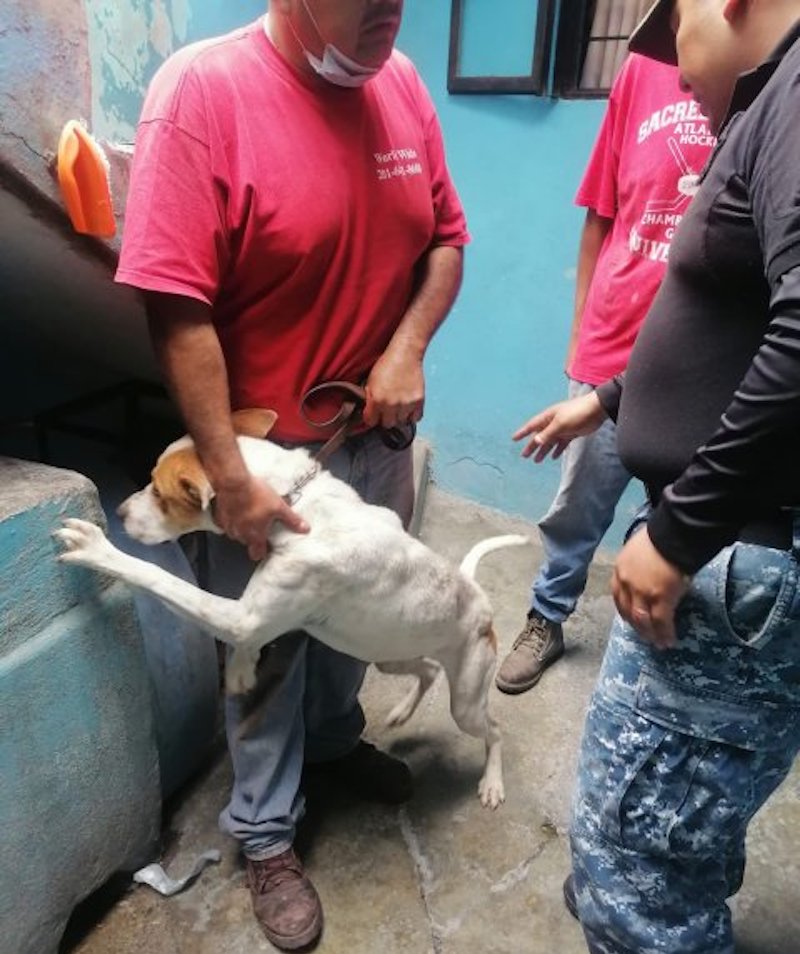 The author of the video posted it on the Twitter platform and said: "I want to raise my voice and once again condemn what my neighbors are doing to their poor dog. They don't care if it rains or hails, the poor animal is left to suffer. Someone has to do something, please help him, alcaldía Gustavo Madero".
Luckily, his cries for help were heard and that's when Animal Control Officer Lety Varela tweeted that they rescued Leo along with a group of rescuers. They organized everything to save the dog from these terrible circumstances.
Lety Varela commented on social media as follows: "I am with my team of the vigilance brigade, citizen security animals, we managed to convince them after a good afternoon, to dialogue to come to the aid of the dog, who was living in terrible conditions. He is currently being treated and observed by doctors, and we hope that one day the cruelty to animals will come to an end."
Leti then posted a photo on Twitter of her walking past Leo, saying that thanks to her team, they had changed the poor animal's life. They were very proud of the effort they had put in and how everything had turned out. They commented that he is super calm and you could tell he was happy to be rescued. They also specified that he is a super loving and affectionate dog. and that he did not deserve such pain.
Today the dog is doing much better and his past is now behind him. He is now in a completely different mood, he has become a different dog. After being examined by a vet and restored to perfect health, Leo was put up for adoption and is now looking for a permanent family that will love and treat him as he deserves.
This beautiful dog will surely find a loving home, where he will never again have to be tied up alone in rain and hail. At least the good thing is that Lety Varela's team listened to this neighbor's call for help and did something to change Leo's life. Let's hope he finally finds a family that will give him all the love he deserves!