The benefits of living in the company of an animal no longer need to be proven, which is why every second French household has at least one under its roof. According to a recent study conducted in the United States, their presence would allow us to fight memory loss.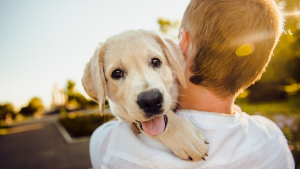 Our pets are sure to wag their tails when they find out that a recent study has highlighted one of their many magical powers! In addition to reducing our stress and our blood pressure, our favorite companions would have a role to play in the state of our cognitive functions, and more specifically in our memory. that New York Post tell us more.
American scientists wanted to solve the mystery
During the annual meeting of the American Academy of Neurology, the Medical Center at the University of Michigan wanted to present the results of one of its studies. This one was interested in the benefits of life with pets and the influence it could have on our memory.
Illustrative photo
To do this, 1,300 people aged around 65 were tested. 53% of them already had a pet and a third of them had owned one for more than 5 years.
To conduct their experiments, the researchers first asked participants to memorize a list of 10 words and repeat it immediately, then 5 minutes later. Then they had them count backwards from 20 to 0, then from 100 to 0, subtracting 7 from each number, reported Daily mail.
Results that speak volumes
At the end of the experiment, the researchers observed that people who had an animal for more than 5 years had better results than those who did not have an animal. A way for Dr. Tiffany Braleydirector of the investigation, to suggest that " pet ownership protects us from cognitive decline ".
Illustrative photo
Are we really surprised? Not really ! As reminded Dr. Rosa Sanchohead of the Alzheimer's Disease Research Center in the United Kingdom, we humans love our animals, they are a fabulous source of companionship and comfort throughout our lives ".
Illustrative photo
Does having one add to our lifespan or reduce the risk of dementia? Experts cannot say for sure and are looking for ever more specific causes. Thus, they continue to conduct their experiments before publishing the official results.
However, it is clear that their presence remains beneficial and that we owe them a great deal…
Illustrative photo

By Maria Anki
Web editor
A great friend of animals from a very young age, Maria gives them a real affection and follows them everywhere on social networks. Coming from a language course, and therefore very busy writing, she now enjoys rubbing shoulders with the animal world accompanied by her most faithful four-legged companion, Monkey.