A mother and daughter have shared an impressive photo montage showing the nearly 1,700 dogs they have rescued since opening their shelter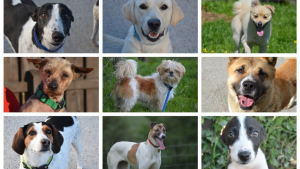 Sharon and Nadine Weir are mother and daughter. Both passionate about pets and concerned about their fate, they created their shelter in 2014. Since then, more than 1700 dogs have seen their lives changed.
The mother-daughter duo has already been devoted to animals for 8 years
Sharon and Nadine started helping animals in 2014 and formalized their activity the following year. "We first opened our home for animals in 2014 and have been a registered charity since December 2015", said Sharonin words reported by Mirror. The shelter is called Paws and people and is located at Banbridgein Northern Ireland.
"Our mission is to rescue, rehabilitate and rehome unwanted and abused animals to give them a second chance in life.", have explained Sharon.
Proud of their achievement, Sharon and Nadine shared an impressive photo
The number of abandoned animals is such that the shelters are full. 8 years after the creation of their charity, Sharon and Nadine helped over 1,700 dogs find new homes and loving families.
Proud of their achievement, the duo shared a huge photo montage on social networks. There are portraits of the 1700 affected canines, placed one after the other. This impressive image helps to realize the scale of the mission accomplished.
© Paws and People / Facebook
The work of Sharon and Nadine are essential to our 4-legged friends, and the owners of animals from their shelter wanted to thank them. Many people have left a nice little comment during the photo montage, like this: "We would never have had our beautiful fur babies without the work you both do. Thanks girls."A well-deserved recognition!

By Wendy Lonis
Web editor
Wendy is an agricultural engineer and combines her passions for words and animals by writing for Pets-dating. As a freelance web writer, she shares her home with many furry and feathered friends: an Australian shepherd, chickens and even carrier pigeons!