This year, the outbreak of the epidemic is particularly late and affects the entire metropolitan territory.
In its weekly report published on Wednesday, Public Health France notes a "continued increase in all flu indicators" during the past week. The flu epidemic has now spread to all metropolitan areas. Corsica had hitherto been spared.
On the whole territory, the incidence rate of the flu increased by 51% in one week. Data from city medicine and hospitals are on the rise. This week, 727 people were hospitalized with the flu. Since the start of surveillance, 195 serious cases of influenza have been admitted to intensive care, including 20 last week.
Late epidemic
After a first increase in the number of cases at the end of 2021, a second wave of influenza is therefore underway. A particularly late flight. In recent years, the peak of the epidemic rather took place during February. The current rise has most likely been favored by the end of school holidays and the easing of restrictive measures to combat the Covid-19 pandemic.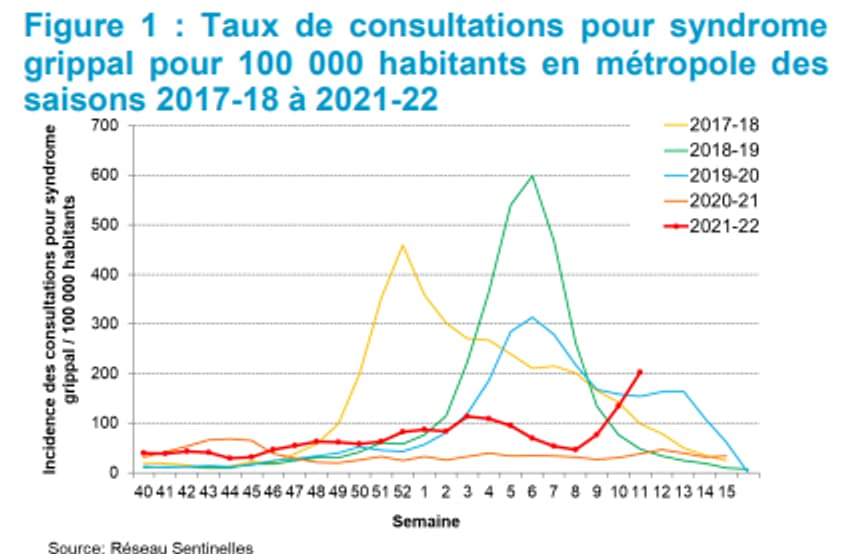 The current epidemic remains however below the levels observed in 2019-2020, and especially 2018-2019 where it had been very strong. Winter 2020-2021 was special, due to containment measures. They had, by extension, made it possible to block the circulation of many other microbes, such as the flu virus. The health authorities are thus calling for the continued application of barrier gestures.