Freya's owners got a double surprise when she gave birth. The female dog gave birth to a dog which was not expected during the ultrasound and whose color was out of the ordinary.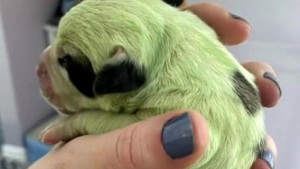 free is a 3 year old Bulldog. During her pregnancy, the ultrasound revealed that she was expecting 7 babies. its owners, Trevor and Audra Moseswas amazed when an 8th was born and was also very different from the others.
© GlobalNews
A black amniotic sac instead of being transparent
In the first place the birth of free took place"like clockwork", as told Trevor in words reported by Global news. The 7 expected puppies were born approximately twenty minutes apart. When the delivery was "finished", the owners of the Bulldog began to clean it with soapy water. It was at that point that the dog showed signs of returning to work. Soon after, an 8th pup pointed the tip of its nose.
© GlobalNews
But this last baby was very different from the others. He was surrounded by a black amniotic sac, while his sibling was translucent. Trevor and Audra at first thought it was stillborn until the amniotic sac started to move.
A green puppy came out of the black bag
When the baby came out, its owners began to dry it. It was then that they noticed his fur was completely green.
Concerned, the couple did research and discovered it was a rare phenomenon, but not dangerous. It happens that one or more puppies during pregnancy come into contact with a green pigment found in the bile, called biliverdin. Animals with light fur can therefore end up completely colored, but this fades over time.
© GlobalNews
Amused and happy to have got an extraordinary puppy, the owners of free asked for name suggestions on social media. Among the proposals received were Wasabi, Fiona, Huckleberry or Pistachio.
© GlobalNews

By Wendy Lonis
Web editor
Wendy is an agricultural engineer and combines her passions for words and animals by writing for Pets-dating. As a freelance web writer, she shares her home with many furry and feathered friends: an Australian shepherd, chickens and even carrier pigeons!